so i went to the st jeromes laneway festival in melbourne. it is in a lane. about 11 people wide by many people deep.
i saw pretty girls make graves. they are ok
i saw wolf & cub. they are noisy and they rock loud
i saw new buffalo, she is peaceful,
she sings a song " it's time to go to sleep"
i couldn't get close to BSS, that sucked. there were problems with feedback, so they didn't play anthem for a 17 year old girl, or any non rocky tracks, that sucked as well
when i grow up i want to be just like tim harrington from les savy fav
he dressed up as a homeless man and stood on the crowd barrier collecting money and talking about how we had to share the alley
i think he may have saliva'd on me while i took a picture
the rest of the band, no one was watching them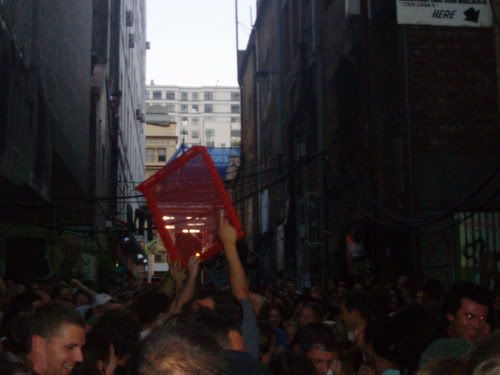 yes, run inside the club and rub yourself on the window
awww
the crowd was nice and wild so i got to do some pogoing and stuff, some guys started crowd surfing and the security guards grabbed them, and one of the guys in the crowd sucker punched the dude who had been crowd surfing in the gut as he was dragged off. thats not cool
and then he put some bread crates on our hands, about 3 and climbed onto them, and we carried him around, kind of falling over for a long time, until he sailed away, and i could take a photo
when i grow up i want to be just like tim harrington, oh and the music was good too