last couple of stuffs
Maurice Sendak – Where The Wild Things Are



"That very night in Max's room a forest grew and grew - and grew until his ceiling hung with vines and the walls became the world all around and an ocean tumbled by with a private boat for Max and he sailed off through night and day and in and out of weeks and almost over a year to where the wild things are."

so the
GRRR
thing was a bit of a let down, i'm not really that big on contemporary dance, not having much of an ability to read the performances. silver jumpsuits are always a plus though, and the sound design was pretty good. what were the yellow balloons symbolising? i have no idea, i'll just say something like
"the battles of morality between max and the wild things were represented by the fight for control over the balloon, as max came to realise his base incompatibility with the wild things' world"
also, in a follow up to the pictures that i posted of the Grote Trekdreef being demolished i stumbled across some work by
Rutger de Vries
, where he appears to have broken into the building and glyphed the walls inside some of the rooms.
and i also made a placeholder logo for my proto-business
which is kind of inspired by these posters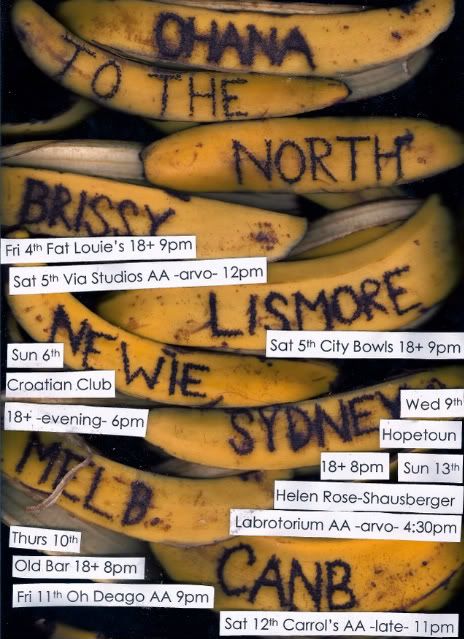 i like how the passage of time is visible through the darkening of the writing. it would have been great if there was a whole series of posters symbolising the length of time between the shows in each of the cities they were playing by the decomposition of the banana skins.
Labels: grote, where the wild things are